West Virginia Certified Community Behavioral Health Centers Initiative (CCBHC)
Join Us in the Journey to Certification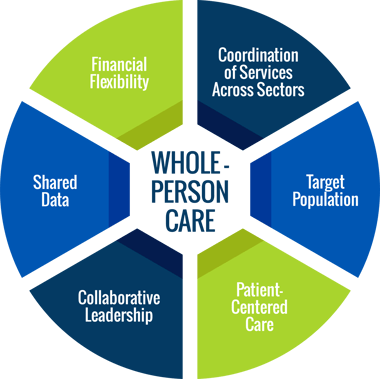 The West Virginia Department of Health & Human Resources (Department), Bureau for Behavioral Health (BBH) and the Bureau for Medical Services are leading the way to advance the Certified Community Behavioral Health Centers (CCBHCs) Model in WV. BBH is partnering with Quality Insights to provide technical assistance and guide West Virginia's 13 participating Comprehensive Behavioral Health Centers and other behavioral health care providers towards CCBHC certification, transforming their practice workflows, and encouraging integrated, coordinated care.
The wide range of services Quality Insights is providing include leveraging the expertise of Bowling Business Strategies (BBS) to share effective strategies and resources that have led other states on successful journeys toward certification.
A Certified Community Behavioral Health Clinic (CCBHC) is a specially-designated clinic that provides a comprehensive range of mental health and substance use services. CCBHCs provide a comprehensive array of services needed to create access, stabilize people in crisis, and provide the necessary treatment for those with the most serious, complex mental illnesses and substance use disorders. CCBHCs integrate additional services to ensure an approach to health care that emphasizes recovery, wellness, trauma-informed care, and physical behavioral health integration. These services include, but are not limited to:
Provision of 24/7/365 crisis care
On-site care coordination
Integrated health care
Tailored care for active-duty military and veterans
March 16, 2023 & March 23, 2023
2023 West Virginia Eating Disorder Network Conference
Online via Zoom
Registration is now OPEN for the 2023 West Virginia Eating Disorder Network Conference, jointly provided by the CAMC Institute for Academic Medicine and the West Virginia Eating Disorder Network. This year we have divided presentations across two dates. Participants may register for either or both presentations. Please see the brochure for details.
You may register online at https://camcmed.netdimensions.com. If you have any questions about registration, please email Eric Holt at Eric.Holt@vandaliahealth.org.
For students, please create an account on the registration site, then email Eric Holt who will register you at no fee.
NatCon23
Los Angeles, California
Three days of leadership-building, organization-boosting learning from the best minds in health care –that's what awaits you at NatCon23 from May 1-3 in Los Angeles, California.
Get ready for the largest conference in mental health and substance use treatment as we celebrate our shared commitment to transform communities! What can you expect? For starters:
Network with thousands of health care professionals from across the country.
Hear from hundreds of sought-after speakers in health care and beyond.
Participate in "deep dive" discussions about the future of our field.
Explore new technologies and trends with industry-advancing organizations.
Boost your learning portfolio by earning Continuing Education Credits.
NatCon23 is more than just an annual gathering of the most influential voices in our field – it's an exclusive invitation to invest in yourself, your organization and your community.
Don't miss your chance to learn alongside peers, enjoy hundreds of hours of premium content and explore new ways to transform your community.
What is a CCBHC?
Learn more about Certified Community Behavioral Health Clinics (CCBHCs) in less than two minutes!
Westbrook Health Services #Studio2121
Join Kevin and Mark as they have a conversation about behavioral health and legislative goals for the state of West Virginia.

Learn More
Contact us today for the latest information and updates on CCBHC.