Home Dialysis Quality Improvement Activity (QIA)
Home Dialysis Quality Improvement Activity (QIA)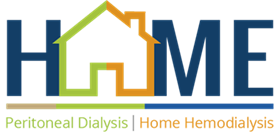 Patients who dialyze at home have more freedom and flexibility to choose the timing and frequency of their treatments. As a result, they have improved quality of life, including lower blood pressure and fewer hospitalizations. With the steady rise of telehealth options, this provides additional resources for patients in rural areas to communicate with their providers regarding their home modality treatment. The network will support ESRD patients, providers, and facilities to achieve the goals set forth by CMS and promote a better quality of life for our patients.
2023-24 NATIONAL GOALS:
Increase the number of incident ESRD patients starting dialysis using a home modality by 30%.
Increase the number of prevalent ESRD patients moving to a home modality by 12%.
Increase in the number of rural ESRD patients using telemedicine to access a home modality by 3%.
Interventions
Linked Resources
Home Dialysis
Telemedicine
Get Set Up - free online learning platform for older adults to help with technology
Articles
Network 5 Contact:
Elizabeth Nuschke, RD
Phone: (804) 320-0004 x2710
enuschke@qualityinsights.org
PDF Resources