Evidence-Based Prescribing
No-Cost Continuing Education
BATTLING THE OPIOID CRISIS IN PENNSYLVANIA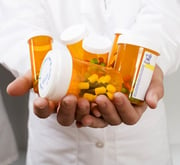 Health care providers and care teams are essential in subsiding the opioid epidemic. Quality Insights is partnering with the Department of Health (DOH) to provide education and resources to assist in navigating the intricacies of this evolving crisis.
Quality Insights offers live and virtual educational sessions on topics including safe and effective opioid prescribing, strategies to identify substance use disorder, addressing substance use disorder, and referring patients to treatment. Certain health care providers are eligible to receive Continuing Medical Education (CME) (particular modules meet additional PA-specific licensing and relicensing requirements).
Registration is Easy
View the training session calendars through the tiles below or just click here.

Don't Miss This Opportunity
Register for a pre-scheduled webinar, or schedule a private session for your organization at no cost. REGISTER NOW or connect with Quality Insights at pdmpeducation@qualityinsights.org to schedule your private training.